LEGAL CONSEQUENCES OF NON COMPLIANCE WITH BID REQUIREMENTS
Peter Volmink

Transnet SOC Ltd
Keywords:
public procurement, non-responsive bids
Abstract
It is a universally accepted principle of public procurement that bids which do not meet the minimum requirements as stipulated in a bid document are to be regarded as non-responsive and rejected without further consideration. This general principle is subject to certain recognised exceptions. However, the danger always exists that organs of state may apply this rule in a rigid and mechanical fashion or worse, as a means to manipulate the outcome of a tender process. For this reason, the disqualification of bidders on grounds of non-responsiveness has generated a considerable amount of litigation in South Africa. In two recent judgments, the Constitutional Court laid down a framework within which the courts should evaluate the legal effect of bid irregularities. Briefly, the requirement of responsiveness operates in the following manner: a bid only qualifies as a responsive bid if it meets with all requirements as set out in the bid document. Bid requirements usually relate to compliance with regulatory prescripts, bid formalities, or functionality/technical, pricing and empowerment requirements. The standard practice in the public sector is that bids are first evaluated for compliance with responsiveness criteria before being evaluated for compliance with other criteria, such as functionality, pricing or empowerment.  Bidders found to be non-responsive are excluded from the bid process regardless of the merits of their bids. Responsiveness thus serves as an important first hurdle for bidders to overcome.  But how should administrative bodies approach the issue of non-compliance with bid requirements?  How can administrative bodies avoid the twin ills of adopting an overly rigid and mechanical approach on the one hand and disregarding the clear and mandatory prescripts of a tender document on the other? Can an organ of state condone non-compliance with mandatory bid requirements? What are the factors to be considered when deciding whether a bid is responsive or not? These are among the questions which this paper seeks to address.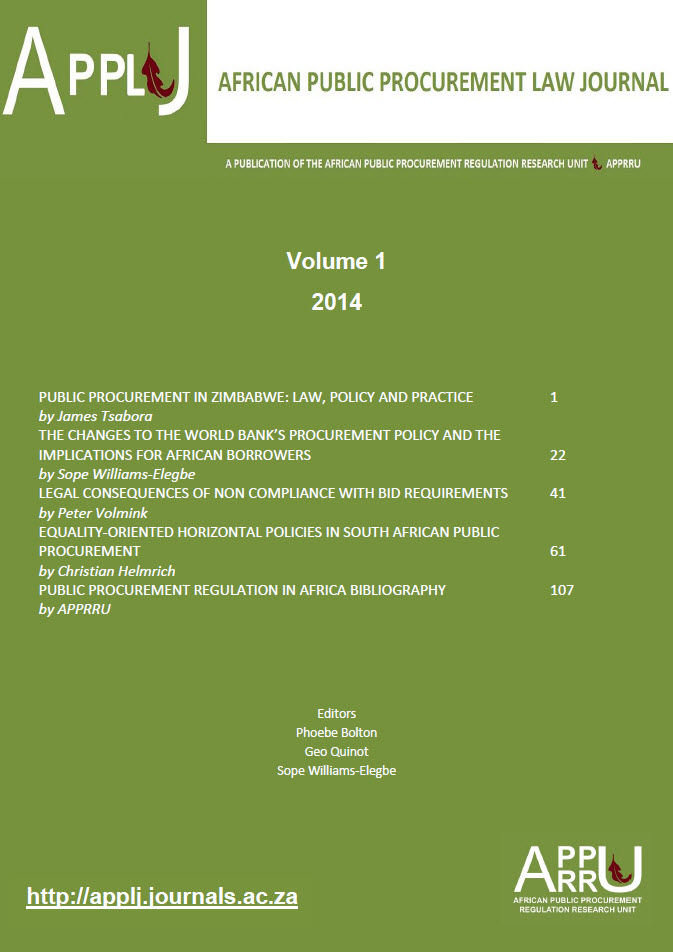 Authors who publish with this journal agree to the following terms:
Authors retain copyright and grant the journal right of first publication with the work simultaneously licensed under a Creative Commons Attribution License that allows others to share the work with an acknowledgement of the work's authorship and initial publication in this journal.
Authors are able to enter into separate, additional contractual arrangements for the non-exclusive distribution of the journal's published version of the work (e.g., post it to an institutional repository or publish it in a book), with an acknowledgement of its initial publication in this journal.
Authors are permitted and encouraged to post their work online (e.g., in institutional repositories or on their website) prior to and during the submission process, as it can lead to productive exchanges, as well as earlier and greater citation of published work (See The Effect of Open Access).