EQUALITY-ORIENTED HORIZONTAL POLICIES IN SOUTH AFRICAN PUBLIC PROCUREMENT
Christian Helmrich

University of Regensburg
Keywords:
public procurement, South Africa, preferential procurement, equality, BEE, B-BBEE
Abstract
In the ever-present fight against poverty, governments are in constant need of effective and efficient policy instruments. Typically, poverty is addressed by tax-based systems of social grants. However, due to financial constraints, instruments that seek to involve the private sector gain more and more attention. Creating such synergies is particularly important for developing countries.In this context, South Africa has implemented and further developed a system of preferential procurement. While the 'traditional' focus of public procurement is 'value for money', procurement policies increasingly pursue other goals, such as social or environmental ones. In South Africa, one of the award criteria is the tenderer's B-BBEE status. In doing so, public procurement in South Africa also aims at redressing past inequalities. Moreover, it is perceived as a valuable instrument in the fight against poverty.This article tries to develop an analytical framework in which the effectiveness and efficiency of the South African system of preferential procurement can be assessed. The argumentation builds on two hypotheses: First, the South African system of preferential procurement pursues two different goals: the promotion of equality and the alleviation of poverty. Second, preferential procurement is ineffective with regards to both these goals.Thus the focus lies not on the viability of horizontal policies in general but on horizontal policies for particular purposes. Furthermore, the article takes into account both the economic perspective as well as the normative perspective. There are several factors that cause doubts whether preferential procurement in South Africa effectively addresses poverty issues. Consequently, if we are to justify preferential procurement, we need to adopt a normative view and focus on the concept of substantive equality. Unlike social grants, preferential procurement is capable of promoting the participative dimension of equality – an important aspect of the transformational process in South Africa.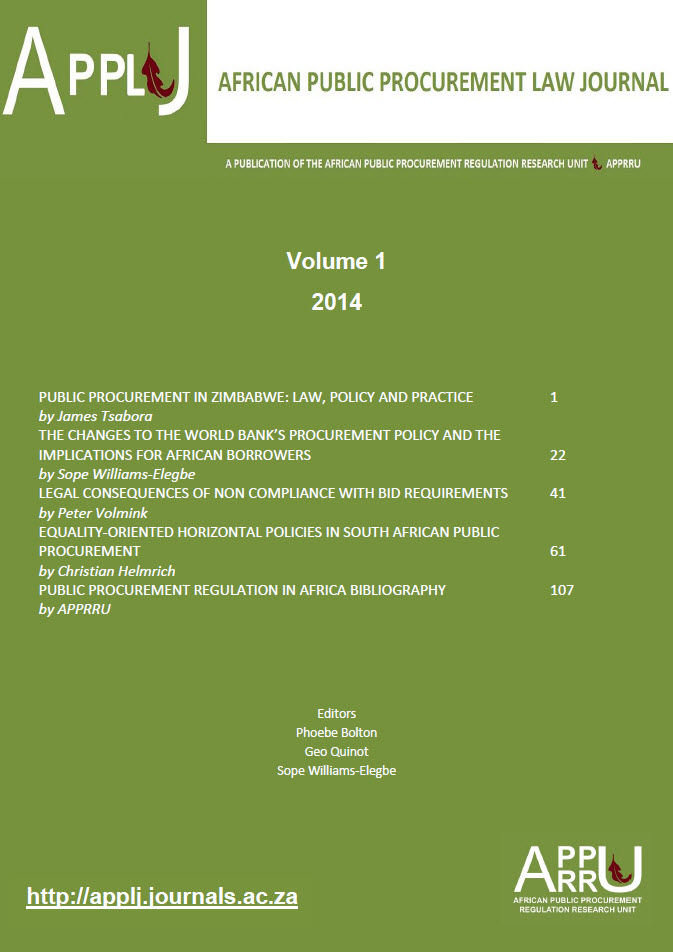 Authors who publish with this journal agree to the following terms:
Authors retain copyright and grant the journal right of first publication with the work simultaneously licensed under a Creative Commons Attribution License that allows others to share the work with an acknowledgement of the work's authorship and initial publication in this journal.
Authors are able to enter into separate, additional contractual arrangements for the non-exclusive distribution of the journal's published version of the work (e.g., post it to an institutional repository or publish it in a book), with an acknowledgement of its initial publication in this journal.
Authors are permitted and encouraged to post their work online (e.g., in institutional repositories or on their website) prior to and during the submission process, as it can lead to productive exchanges, as well as earlier and greater citation of published work (See The Effect of Open Access).